About Damouchari
Our destination is Damouchari, Mount Pelion, Greece. Enjoy the ancient beauty of the majestic mountains, the turquoise sea, abundant herbs, gardenias and easy living vibes. According to mythology, this is the land where the Gods and Goddesses came to rest; come, decompress and melt away the tensions of modern living
The poetically named Damouchari translates as give me grace and for love's sake. These golden threads inspire our retreat: living with more grace, more love, and experiencing more aliveness
It also happens to be the beautiful village where Mamma Mia was filmed – locals testify Meryl Streep was a dream to work with and often went to the cafes and restaurants we frequent.
In this video you'll see our beaches and lagoon space, and I reckon the chap in there drinking the aptly named local tipple, Tsipouro, is our taverna host-with-the-most, Apostoles.
Timeless beauty – take a look…
About our accommodation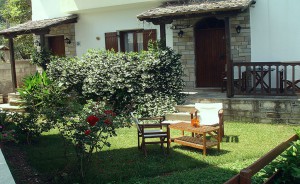 We have booked every apartment in Maistros Studios, which is perfectly located on a hillside and forms a close triangle with the lagoon and glorious beach. All apartments come with a balcony with mesmerising sea views. Accommodation is shared but if you wish to have a single room, please ask us for options.
Maistros is run by a very  warm, hospitable Greek couple. It is white washed and surrounded by lemon trees. There's a cool, peaceful courtyard and other charming features. They are handily equipped with a mini-kitchen (great for making teas and late night snacks!) and are ensuite.
Last year our host put on a Greek music night with lots of singing and dancing – am sure he'll do this again for us!
You can take a look at here